KUMBHALGARH RANAKPUR DAY TOUR

On this same day trip to Ranakpur and Kumbhalgarh, you will explore two magnificent monuments of Rajasthan built in the 15th century. Kumbhalgarh, the largest forts in Rajasthan, will be the first monument in this Kumbhalgarh Ranakpur day Tour. This fort has stunning walls with memorable art work, temple, step well and a beautiful sanctuary surrounding the fort. The second monument in the list is the Ranakpur Jain temple known for its beautiful artwork and marble pillars. The intricate details of both of these monuments will make you a huge fan of the art and architecture of historic era. The time duration of this full-day Tour to Ranakpur and Kumbalgarh from Udaipur will be about 8 to 9 hours.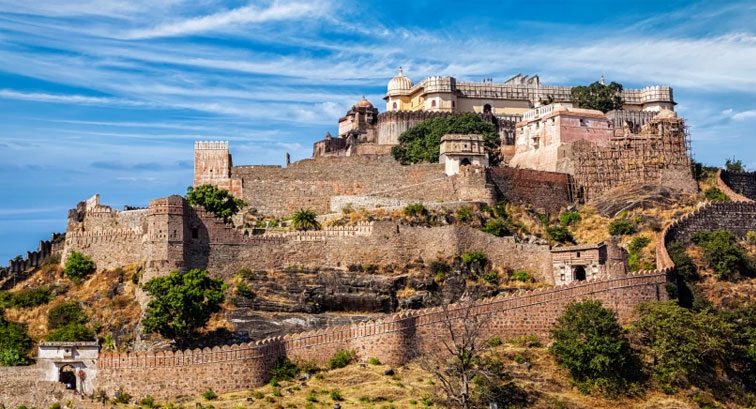 KUMBHALGARH FORT
Kumbhalgarh Fort is a Mewar fortress on the westerly range of Aravalli Hills, in the Rajsamand District of Rajasthan state in western India. It is a World Heritage Site included in Hill Forts of Rajasthan. Built during the course of the 15th century by Rana Kumbha and enlarged through the 19th century, Kumbhalgarh is also the birthplace of Maharana Pratap, the great king and warrior of Mewar. Occupied until the late 19th century, the fort is now open to the public and is spectacularly lit for a few minutes each evening. Kumbalgarh is situated 82 km northwest of Udaipur by road. It is the most important fort in Mewar after Chittaurgarh.

In 2013, at the 37th session of the World Heritage Committee held in Phnom Penh, Cambodia, Kumbhalgarh Fort, along with five other forts of Rajasthan, was declared a UNESCO World Heritage Site under the group Hill Forts of Rajasthan.The fort has the second largest wall in the world after the Great Wall of China and the second largest fort in Rajasthan after Chittorgarh Fort.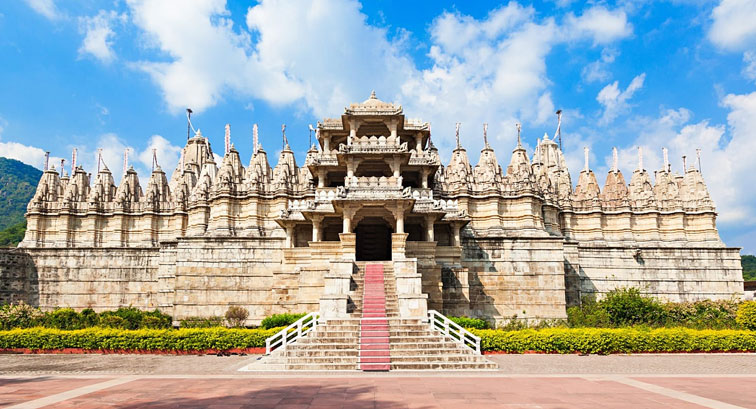 RANAKPUR JAIN TEMPLE
Ranakpur is situated between the mountains of Pali and one of the famous places of Rajasthan which was given the name after Rana Kumbha. The main tourist attractions of Ranakpur are its famous temples. Ranakpur houses a collection of Jain temples unmatched in their beauty. The temple at Ranakpur is dedicated to Adinatha, the first Jain Tirthankara (spiritual leader) who conquered the cycle of rebirth and achieved enlightenment.

Marked as one of the five holy places for the Jain community, these were created in the 15th century. The central Chaumukha [four faced temple] is dedicated to Adinathji the temple is an astounding creation with 29 halls and 1,444 pillars all distinctly carved and no two being alike is an amazing evidence of the genius sense of architecture that enhances the charm of the place. Every temple has this conceivable surface carved with equal delicacy.