JAIPUR ONE DAY AFTERNOON TOUR

Planned by Vidyadhar Bhattacharya, Jaipur holds the distinction of being the first planned city of India. Renowned globally for its coloured gems, the capital city of Rajasthan combines the allure of its ancient history with all the advantages of a metropolis. The bustling modern city is one of the three corners of the golden triangle that includes Delhi, Agra and Jaipur.

The story goes that in 1876, the Prince of Wales visited India on a tour. Since the colour pink was symbolic of hospitality, Maharaja Ram Singh of Jaipur painted the entire city pink. The pink that colours the city makes for a marvellous spectacle to behold. Jaipur rises up majestically against the backdrop of the forts Nahargarh, Jaigarh and Garh Ganesh Temple.

Jaipur traces back its origins to 1727 when it was established by Jai Singh II, the Raja of Amber. He shifted his capital from Amber to the new city because of the rapidly-growing population and an increasing water scarcity. Noted architect Vidyadhar Bhattacharya used the established principles of Vastu Shastra to build the city.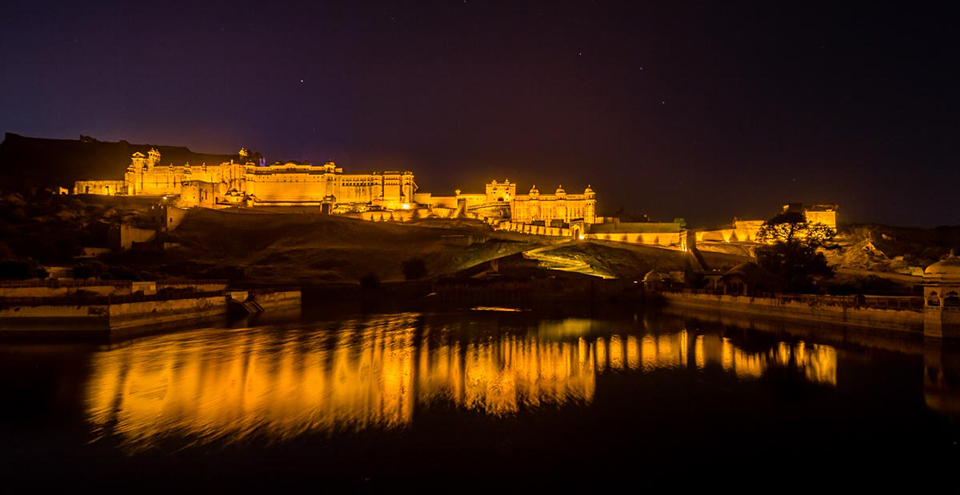 AMBER PALACE
The Amer Fort is one of the most import fortifications in Rajasthan and combines impenetrable defences with intricate marble detail. The fort clings to the sides of the steep hill and provides commanding views over the entire region while inside are sumptuous rooms and symmetrical gardens. The Amer for is the highlight of Jaipur and sufficient time should be provided to explore this wonderful palace. The fort is 7km north of Jaipur and an auto rickshaw or taxi is required for the journey from the centre of Jaipur.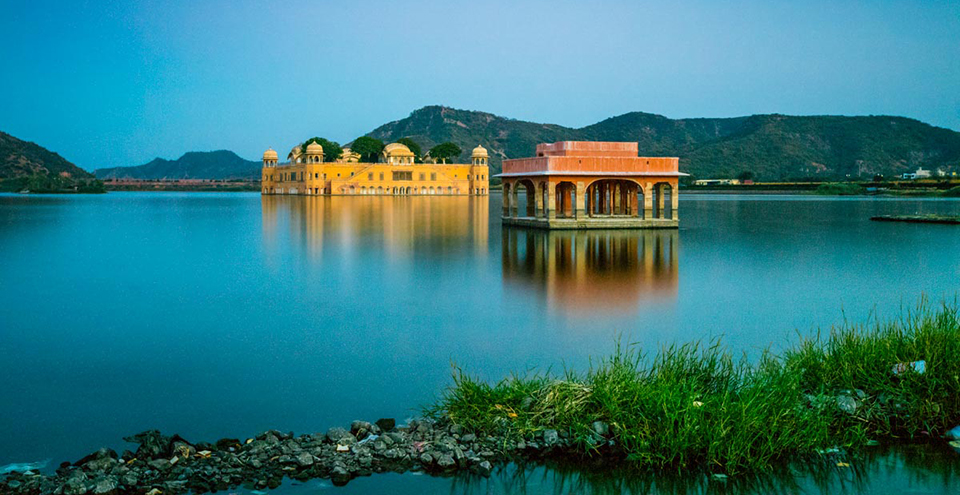 JAL MAHAL
On the return from Amer fort stop to view the Jal Mahal, the water palace. The palace was constructed as a duck hunting lodge by the Maharaja in the 18th century and appears to be floating on the still waters of Lake Sagar. The palace can only be viewed from the banks of the lake so only takes around 20 minutes to view.
SUN TEMPLE
The final suggestion for the afternoon is watching the sunset over Jaipur from the Sun Temple (Surya Mandir). The location of the temple provides panoramic views of Jaipur and on a clear day the city is bathed in golden by the setting sun, and there are monkeys to feed!